DISPUTE OVER MAYA ANGELOU'S ESTATE
---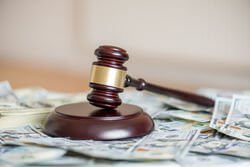 The latest celebrity estate to see a dispute between relatives over control of the estate assets belongs to the late poet, Maya Angelou.
In recent decades, students all over America have studied Maya Angelou's poem "I Know Why the Caged Bird Sings" in school. It was the late poet's best known work.
She is also remembered for her recitation at President Bill Clinton's first inauguration. Angelou might be one of the few modern poets that the majority of people in the U.S. recognize by name.
She directed that her assets, including the copyrights to her works, should be put into a foundation called the "Caged Bird Legacy" after she passed away.
Angelou gave a 75% interest in the foundation to her son, Guy Bailey Johnson, and a 25% interest to her grandson, Colin Ashanti Murphy-Johnson. The son is suing the grandson, according to the Courthouse News in "Maya Angelou's Son, Grandson Fight Over Poet's Legacy."
The son claims his own son is attempting to cheat him out of his proper share of her legacy. Her son's claim is that her grandson tricked him into giving up control of Caged Bird Legacy and now the grandson is taking assets out of the of the foundation for his own use, without giving his father his fair share.
It is uncertain at this point whose claim is right or wrong.
This is another example of a fight over a valuable estate and why it is sometimes better not to leave family members in charge. Especially when dealing to valuable estate assets, it is sometimes better to have independent oversight.
Reference: Courthouse News (Nov. 6, 2017) "Maya Angelou's Son, Grandson Fight Over Poet's Legacy."