LESS HEALTH CARE MIGHT BENEFIT SENIORS
---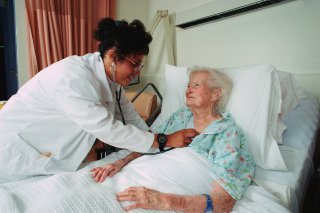 The American health care system is built on the premise that the more care and medicine provided, the better the care. A growing movement believes that is not always true for the elderly.
As people get older, they develop more and more long-term diseases and health conditions. By the time someone becomes a senior citizen, it is common to have multiple daily prescription medicines to take. There are also many procedures that doctors want to perform.
Traditionally, U.S. health care policies and doctors' advice for individual elderly patients has been to treat everything, to perform every possible procedure, and to prescribe medication for every ailment.
A new movement seeks to change that, as Politico reports in "Senior medicine: When 'more' isn't better."
The movement was started five years ago by the American Board of Internal Medicine Foundation. It is known as the Choosing Wisely initiative.
The idea is that too much treatment for the elderly can lead to worse health outcomes.
Seniors are more likely to suffer from bad surgical outcomes and are more likely to suffer from the debilitating side effects of prescription medications.
Therefore, instead of automatically treating everything, the group suggests individualized treatment plans that focus on the most important issues an elderly patient has and how all of their treatments interact.
Despite more than 80 medical specialty associations agreeing with the Choosing Wisely initiative, doctors are still often punished by reimbursement schemes for practicing it.
That could change, however, since providing less health care would save Medicare a lot of money. That makes the Choosing Wisely initiative a win for everyone if less truly is better.
Reference: Politico (Sep. 27, 2017) "Senior medicine: When 'more' isn't better."