PREVENTING FALSE CLAIMS OF HEIRSHIP
---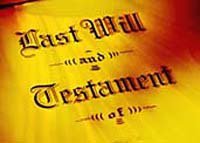 Some people will go a long way in their efforts to claim that they are the heir to a valuable estate when they are not even really related to the deceased.
Recently the remains of Salvador Dali were exhumed by an order of a court in Spain. A woman named Pilar Abel claimed to be Dali's daughter and entitled to a portion of his estate. She convinced the court to exhume the body so that DNA testing could be conducted.
As it turns out, the DNA testing revealed that Abel was not related to Dali. It is not clear whether Abel knew that her story was false.
If she had been able to prove that she was Dali's daughter, she would have received approximately $250 million from his estate as the Wills, Trusts & Prof Blog reports in "Inheritance Disputes from Beyond the Grave."
Post-death claims of those asserting heirship to a large estate are increasing, according to some in the estate law field. That might seem strange since DNA testing makes adjudicating any such claims relatively easy.
This goes to show how desperate some people are to seek a fortune the old-fashioned way – by inheriting it.
What does this mean for your estate plan? It is important to include ways to help prevent these claims and other challenges to the plan. An estate planning attorney can assist you in making the problem less likely to cost your estate the time and money to fend off a challenge.
Reference: Wills, Trusts & Estates Prof Blog (Oct. 26, 2017) "Inheritance Disputes from Beyond the Grave."